How does the internet speak? The voice of chatbots

How does the internet speak? The voice of chatbots – the new trend in digital marketing
Chatbots slowly but persistently become an unmistakable helper of any e-business. The "Voice" of the Internet begins to gradually help employees who are engaged in customer service and turn their work into a lighter and more enjoyable business. And what is actually the chatbot? This is a special software with pre-set commands that is activated through a chat interface. It is designed to interact with current and potential customers of a company, facilitating the work of the Customer Service department.
Although in the past year and a half to comment that these are the first e-employees, we have all come across them long before Facebook introduced its chatbot. Each of us has been called to a state, banks or private institution, and the call has been answered electronically. Practically, these are also bots whose purpose is to optimize the work of a company.
Many digital marketers are convinced
that chatbots have both the potential and the real opportunity to increase the number of products
added to the basket of an online store. On the other hand, the first customers who touched the new feature and communicated with a chatbot were pleased with saving time by avoiding phone waiting or online response from a real employee in a company.
With the introduction of e-commerce, digital assistants are expected to significantly increase their numbers. Worldwide, experts commented that the peak of digital applications is over. Big American companies felt a real jolt in the spring and early summer of last year when over 20% of consumers had not downloaded any mobile app because of the market saturation. On the other hand, although this is already a well-known practice in the world, the number of companies that use chatbots in our country is still comparatively small. Even fewer are the digital companies that create chatbots for their customers.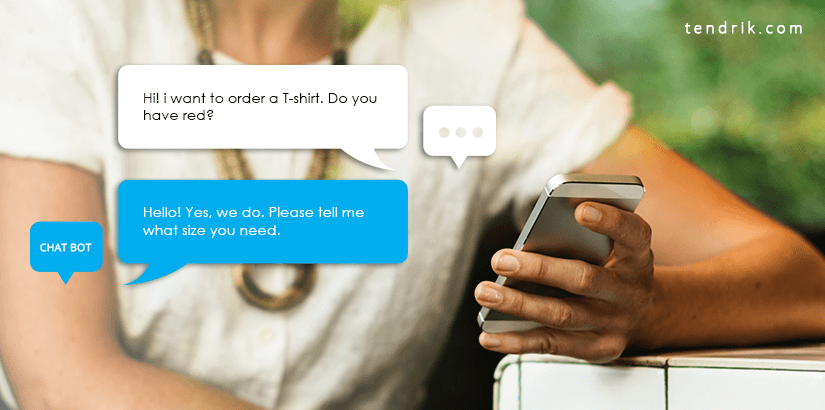 Chatbots become a favourite technique that is used online not only for personalized online stores but for Facebook pages, ad campaigns, and other ways to get in touch with your real or potential clients. With the advent of Facebook massager ads, there has been an incredible engagement on the part of users who have received a message via chat. 95% of people open the ad message to read it, and clicks on it vary between 20% and 35%, which is a very good result. In Bulgaria, the modern wave of chatbots has not yet hit the business, so if you want to be one of the first to benefit from good results, now is the right time to do so.
More and more businesses resort to them – our online friends, bots. Whether they will be consulting you in an online furniture store, recommending new products, or gently inviting you to participate in a game or exploration – their application is extremely broad. All you have to do is blink your imagination, make the presets and everything is ready.
When we talking about the future of chatbots, the opinions are very different and contradictory.
Given the examples that appear in online space, the clash of attitudes is fully awaited. Chatting the Twitter bot, for example, was learned in rather indecent terms. On the other hand, a bot used by a company to produce and distribute mattresses and pillows has become one of the best friends of people suffering from insomnia. The second example has had a pretty beneficial impact on sales, especially in the tiny hours of the night.
However, marketers are clear that chatbots will never completely displace communication with a real person. In the not too distant future, it's expected chatbots to solve specific problems and respond to customer inquiries but will not replace mobile applications or email communication.
If you need help planning your digital marketing strategy or want to test the functionality of chatbots, the web agency Tendrik can help you stay up-to-date and enjoy the best possible results for your own business.