Best Full-Service Digital Marketing Agency Award
Tendrik received an award for Best Full-Service Digital Marketing Agency – Bulgaria of Technology Innovator Awards 2020 hosted by Corporate Vision magazine.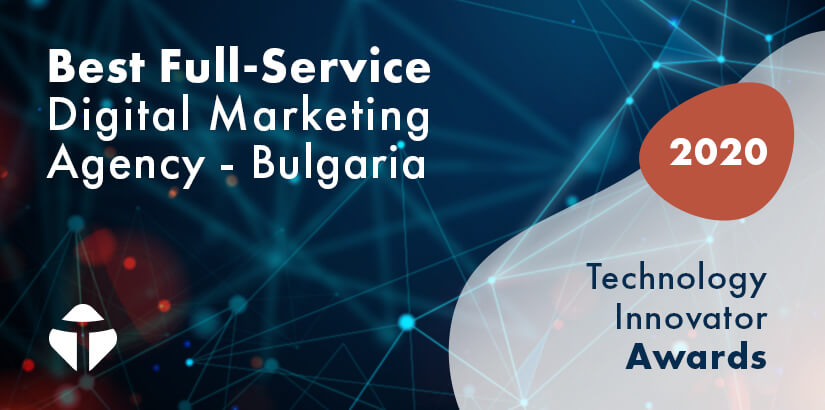 What are the Technology Innovator Award 2020?
Technology has become one of the most important aspects of our lives. The role and impact of technology in both our personal and working lives is ever growing. Technology is all around us – from instant communication and entertainment to improvements in services and security. Every aspect of the modern business market has been influenced by technology in one way or another.
The 2020 Technology Innovator Awards are organized for the fifth year. Corporate Vision magazine reward individuals and firms working in this demanding sector for their innovation and excellence in their business practice. As well as their outstanding overall performance
AI Global Media
AI Global Media launched Corporate Vision to acknowledge and celebrate businesses all over the world who strive – every day- to be better than they were. They feature companies that innovate, grow, and thrive despite challenges and uncertainty. For them, success relies on an ability to be agile and future-thinking. And we cannot disagree on that, right.
It is an opportunity that showcase company's and enterprise's their new products and ideas to an audience. The audience include CEOs, directors, and other top-level professionals as well as investment professionals, spanning an array of industries and sectors. The Awards show and value employee's efforts as an organisation, whilst also providing the public with evidence of successes of the business.
The Corporate Vision wants to ensure deserving companies get the chance to stand in the spotlight and shout about their achievements.
Taking part in the programme will help differentiate a business from competitors. Providing a real competitive advantage when seeking or retaining customers or speaking to clients. And gives the opportunity to discuss businesses with leaders in the industry.
2020 Awards of Corporate Vision Magazine:
Aviation and Aerospace Awards
Business Innovator Awards
Small Business Awards
Corporate Coaching and Recruitment Awards
Technology Innovator Awards
Education and Training Awards
Franchise Awards
Logistics, Warehouse and Supply Chain Awards
More info: https://www.cv-magazine.com
For our team the Best Full-Service Digital Marketing Agency – Bulgaria of Technology Innovator Awards 2020  brings positive impact, because it means recognition and appreciation for our work and we are glad that Tendrik received it.  It is a motivation to keep developing and working in our field.
Read more: Clutch Leader