OpenCart integration with eMag
Having conquered the Bulgarian market a while ago, eMag is the biggest online store in Bulgaria right now. The company is owned by the Romanian "Dante International" and is operating in 4 countries (Bulgaria, Hungary, Romania, Poland). In Bulgaria it continues to develop rapidly – it's the first one that presented "Black Friday" to Bulgarians. And though their slogan is "A wide range of products" and they provide a huge variety of products, they can't possibly offer everything that exist. That is the reason why eMag helped to introduce the Marketplace system to the Bulgarian market. It allows all trusted partners to offer products of their own on the website. This way the website offers even greater variety of products (all this can be done through only one user account). Each partner has the opportunity to multiply their audience and clients. As a reference, during just Black Friday 2016 orders on the website reached 27,7 milion leva.
Integration with eMag
The first thing you have to do to become a partner of eMag is contacting them and provide detailed information about your business, of course. After careful research you will be sent an agreement and then you can work together. Once you've signed a contract and you are in a collaboration, you will be given access to their Marketplace. This is the place in which you can add and remove products, view and accept orders. Products can be uploaded manually through the interface. This can be problematic when the products are in big quantities and are difficult to track manually. Also, if you don't sell only in eMag, with every other sale you will have to synchronize and update the information in eMag's Marketplace.
Modules that help with the integration
eMag have tried to offer a solution to the automation of the processes between them and retailers – they have created modules for the two most popular e-commerce platforms – OpenCart and Magento. But if we have to be honest, their modules don't work quite well.
After long struggles with it, we have decided to create our own integration module and present it to our customers. Our motivation comes from the desire to make it easier for our customers and provide an optimal solution to a common problem. Our module is easy to integrate and use and we can honestly say that by far this is one of the best solutions on the market. Below we will give you detailed information on how it works exactly in order to see for yourself the successful implementation of its role.
The biggest challenge we've faced, when it comes to integration with eMag's system, were strict documentary requirements. For example, in "Fashion" the name of the product should be written in the following order: name, brand, model, colour, size, followed by other characteristics (if there are any).
Lacy Dress MEGZ W16/23, Black, size M/L
While on their own website, our clients most commonly name their products like that:
Lacy Dress
So, you see that even if an integration is presented as fully automated, we still need to manually adjust these characteristics and names.
We have developed two solutions that aim to help the work of our clients.
eMag Match
This is the most convenient option when the product already exist in eMag's systems. The integration also includes work done manually, but it will be done only once.
The first thing you have to do is find the product's page in eMag and the product's page in your own website.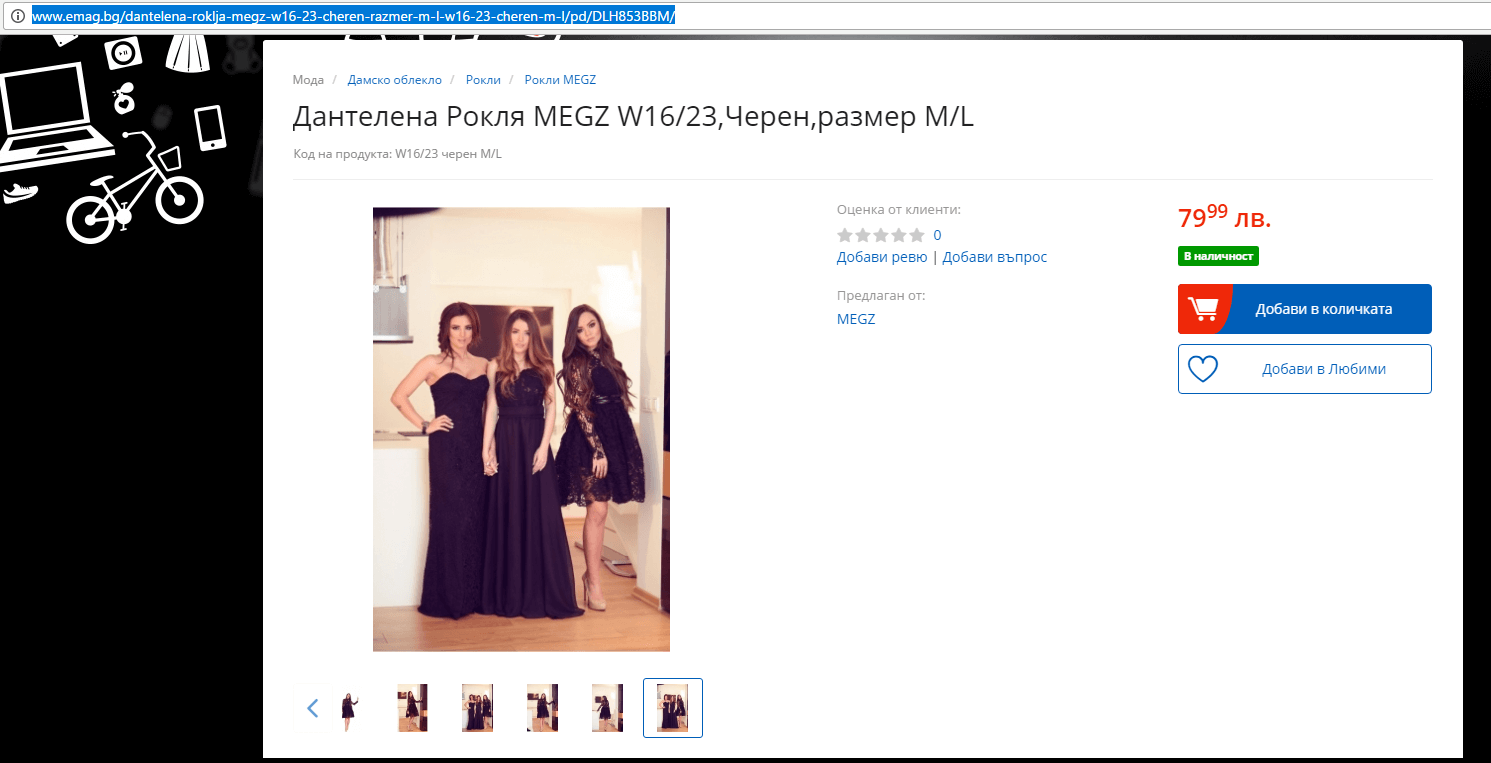 Continuing this example, we can see that the women's dress' ID in eMag is: DLH853BBM (which is the last thing in its URL). Once we find the product's ID in our website, we just add it to the module.


After that is added, the quantities are updated in a certain period of time and that way the possibility of offering a product we don't actually have in stock is close to none. Our biggest benefit, however, is that we don't have to wait eMag to validate our product, but instead we start to sell it immediately. While using the standart way, after uploading a product, we must wait an eMag customer to check if everything's okay and validate it. With this method we just skip that part.
(Another thing that helps avoid this process and is important is our product's pictures – they must be on a white background and in an previously approved (different for every category) size.)
eMag Module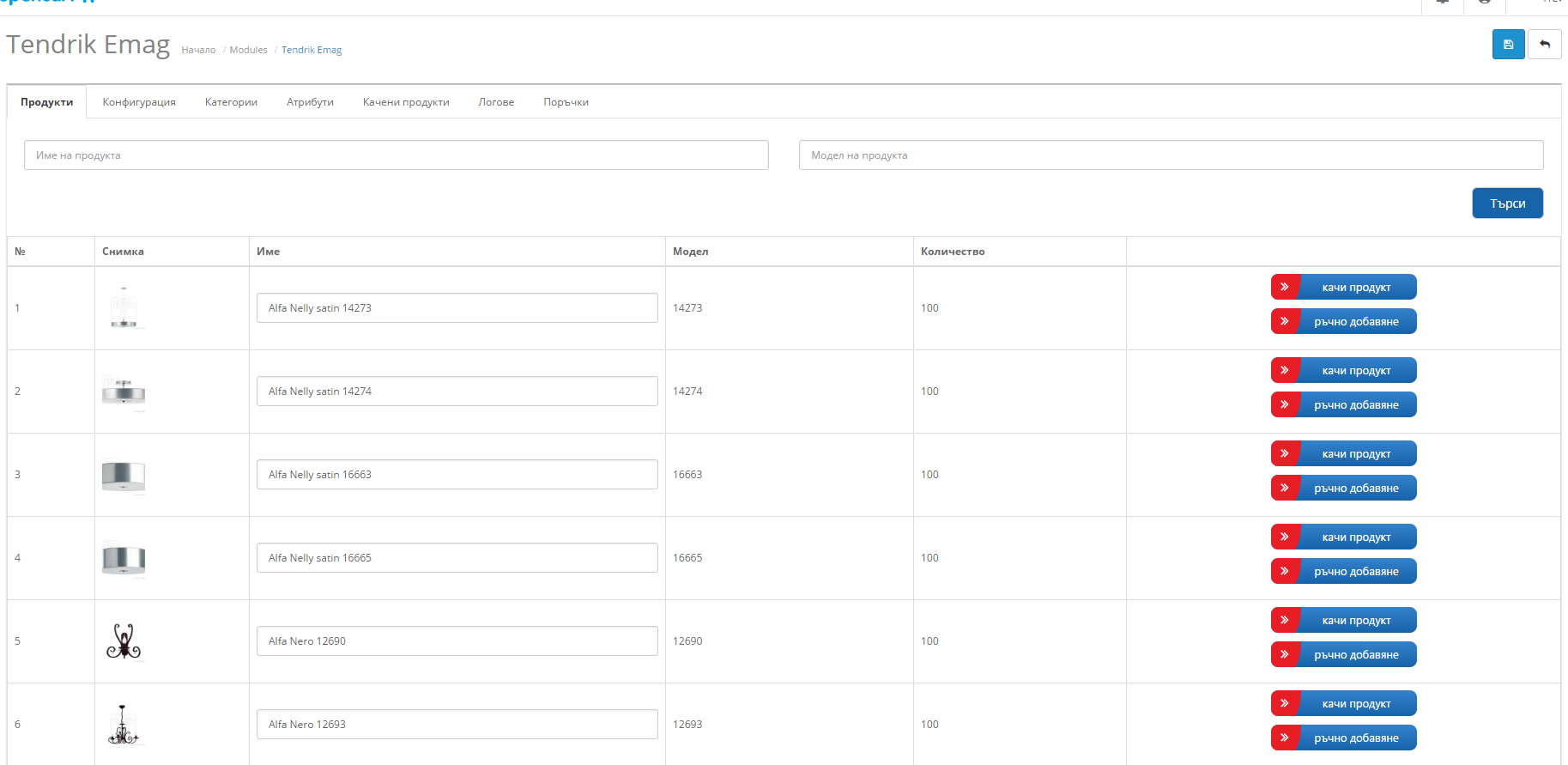 Before the aforementioned easy way to add products (and in a case that our product isn't even uploaded in the eMag's database), we've developed a module that sends the product data to the eMag's system waiting just validation to be ready for selling.
This module's advantages are many:
We save so much time this way, time we can invest in something valuable such as developing our business;
Things are made so much easier for us – amongst the many functionalities it has, it updates the quantities automatically;
It has an user-friendly interface;
It is adaptive to different types of business.
Those and many others are reasons for choosing automatization for processes and activities that allow it. This way we not only save valuable time, our work becomes less stressing, gain a lot of benefits for our business and are given the opportunity to invest the saved time in something important, such as developing our business.
In the module we must write the following: username, password and vendor code.
After that we connect our category with eMag's respective one.

For example we have made a relation between our category "Luxury lighting, chandeliers" and eMag's category "Lamps". They we just have to connect the dots.
For example – eMag's characteristic "number of lamps" to be connected with our "number of nests".
After such made connections we can easily upload a product with just one click.

This field is a text one – it can be edited in ways to meet all of eMag's requirements. Editing can also be perfomed manually.
We can see all of the products listed and next to the ones not yet uploaded in eMag there are two options: "upload product" and "add manually".
Choosing the first option, we take into account all of the previously made relations, so the product is sent having met all of eMag's requirements.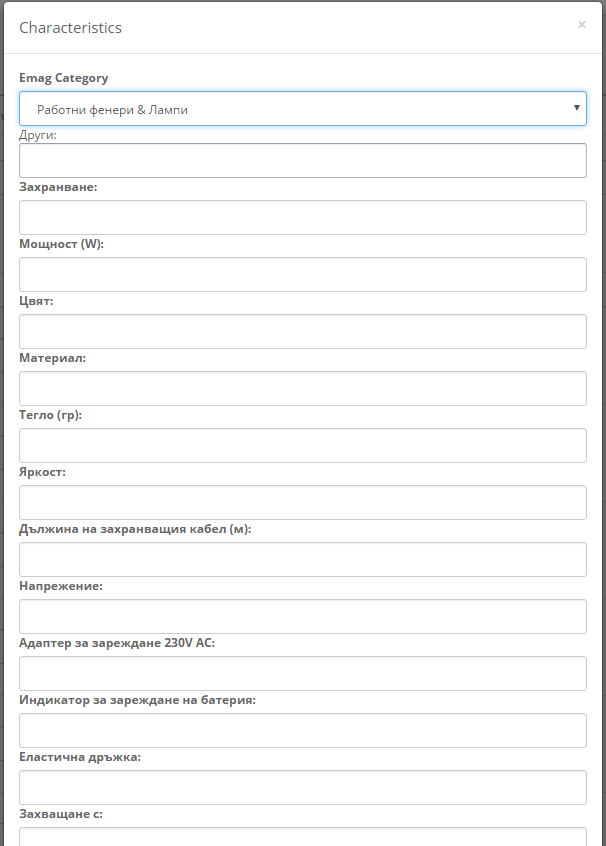 With choosing the latter, we will see a specially designed form with category and all of eMag's requirement for the said category.
After we've completed everything, the product is sent to eMag's database. After that it can be found in eMag's Marketplace. In the beginning its status won't be "published" but "expecting validation". The time for validation differs and depends on the product itself and the workload of the platform, so it can be pinpointed to an exact time, but according to experience it takes about a week for products to be validated.

We can summarize that the integration of your online store is not only necessary, but also a game-changer if done right. In this case, if your store is not integrated with eMag, it may cost you a lot of extra time and efforts. But what's the right way? The way that saves you time, makes the integration process easier and provides convenient and easy solutions to pressing problems. We are offering you a solution for the most frequent problems with eMag. If you decide to use it, contact us.
If you want to learn more about our projects and the services we offer, you can do this here.